Clothing & Accessories
We stock a large range of clothing, tools, energy foods, helmets and shoes from leading Yorkshire, UK, European and Worldwide suppliers.
Funkier and Altura are our main clothing brands and we also stock products from Shimano, FLR and others. All our clothing suppliers provide the benefits of cutting edge design and the very latest in fabrics, most of which is tried and tested by ourselves.
Helmets are an essential safety aspect – we stock the excellent Bell and Giro brands.
Whatever the British weather throws at you – we have the kit to combat it.
Altura is a British designed Technical Bikewear and Technical Bike Luggage brand. Specialising in innovative, functional, stylish and affordable products, we've grown from strength to strength to become the UK's leading supplier of clothing and bags to the cycle market. Catering for all types of cyclists, we have developed a range that encompasses the specialist and individual requirements of commuters, roadies, mountain bikers, tourers and leisure riders alike. Leading the way in commuter specific wear, Altura's benchmark Night Vision collection is now recognised as the definitive combination of safety and protection. Off road, the Attack range continues to grow and can been seen out on the trails year round. For the road scene, we offer a wide spectrum of clothing which is headed up by Ergofit. Offering incredible value for money Ergofit is gaining status among the sportive scene as well as club riders up and down the country. And no matter what discipline you ride we have the carrying solution for you from seat packs to panniers, briefcases to bar bags. Never happy to sit still we are committed to continued research, product development and testing in the pursuit of ever-better product to make your ride a comfortable, stylish and happy one.
Japanese Technology Since 1921, Shimano offer a complete range of every cycling shoe you could ever need.
Funkier Bike's cycling apparel includes professional elements from the world of fashion – they look good and feel fantastic. The ultimate biking clothes are manufactured using advanced technologies and perspiration evaporating materials that enable air to enter and leave in both directions. The use of different types of textile provides a pleasant, unrestricted ride in all weather conditions, and enables bikers to enjoy warm winter clothing and cool summer apparel. Just like other clothes manufactured by its mother company, Funkier Bike clothes are characterized by high quality textiles and sewing. Investment in product quality entails attention to the smallest of details without compromising even a zipper or label that may disrupt the ride – everything is adapted to providing the ultimate biking experience.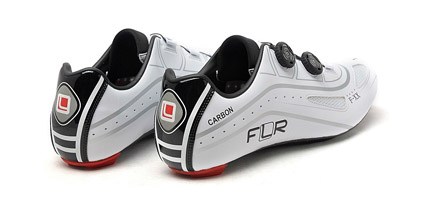 Cycling shoes are undoubtedly the most important piece of equipment when it comes to improving your power transfer and saving energy.
Your shoes serve as the link between your body and your bike. Properly fit shoes can make the difference between comfort or pain, whether you stay healthy or get injured, if you win a place on the podium or not. To accomplish these main goals, FLR was founded.
Each shoe was designed with close cooperation of top professional riders, who have therefore influenced the development of the technologies and materials, to deliver maximum performance and comfort to your feet.
FLR's entire range counts on supreme technology in our shoes, such as the full carbon sole, Microfiber leather, ATOP lacing system and buckles, Vibram sole, and pedals and cleats.

Bell exists to inspire and enable the next generation of boundary breakers. It is built from auto racing, motorcycle and bicycle culture. We don't just make helmets; we make possibilities. Born in a garage; fuelled by grease and will; guided by pure intent to encourage the world to live, ride, drive and thrive hand in hand with the World's best drivers and riders; Bell continues to enable the World's best to be their best … as it always has.

Giro comes from a unique place. Santa Cruz, California's location—at the intersection of surf and mountains—attracts people of an independent mindset: outdoors people; iconoclasts who set their own priorities, more inclined to put human values ahead of corporate interests. Counter intuitively, it turns out that Santa Cruz, a place where business shuts down when the surf is up, has proven to be a powerful entrepreneurial incubator.